Powder Coating for Metal Components and Assemblies
Views:1 Author:Site Editor Publish Time: 2018-03-05 Origin:Site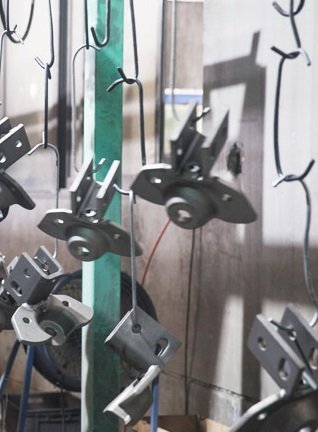 Powder coating surface treatment can enhance the appearance of metal assemblies and can increase the durability of metal components that receive regular use. This advanced coating can offer significant benefits for commercial and industrial applications and can add a touch of elegance to items intended for consumer use. Here are some of the important advantages of powder coating.
Color Matching
Powder coating can be formulated to match almost any color, allowing you to enjoy the widest range of options when designing metal components and assemblies. Companies that specialize in these coatings can also match gloss levels to create a cohesive look for your metal products.
This can help you make the right aesthetic statement and can ensure the best reception from consumers and clients in the commercial and
industrial fields.
Durability

Increasing
Powder coating treatment can also increase the durability of components, allowing you to enjoy life and improved performance for key elements of your products. Trolley carts, Racks, Sheet metal enclosures and other items that take heavy use and abuse on a regular basis are ideal candidates for these powder coating services.
Corrosion Resistance
Powder coating also can prevent corrosion and rust from damaging the surface of the metal parts, which will allow them to last longer and perform better over time. These coatings can deliver improved longevity for all your essential components, by protecting metal against the effects of moisture and other chemicals.
Added Visual Interest
Metal coatings are available in many kinds of textures and finishes. This can generate real visual interest for consumer items and can create a distinctive look for your company's products. You can ensure that these items stand out from the crowd in the competitive marketplace, by investing in powder coats for components and finished joints.
Green Friendly
The process is environmentally friendly to apply powder coats to metal surfaces. Allowing you to enjoy the greatest green-friendly credentials in the public arena and reducing your company's carbon footprint and overall pollution output, No solvents or volatile chemicals are used to adhere powder to your components. These coatings are heated and cured after application, ensuring that no drips or uneven patches mar the appearance of your finished products
The metal fabrication experts at Zechin Industries can provide you with state-of-the-art powder coating services along with Metal parts and assemblies that can allow your company to streamline its processes and ensure the fastest turnaround times for your projects. You can enjoy one-stop shopping for all your metal fabrication and finishing needs by working with us. Contact us to learn more about how we can help you manage your metalworking projects in a more efficient and cost-effective way. We look forward to the chance to serve you.