Working on Deep Drawing Stainless Steel Parts in China
Views:1 Author:Site Editor Publish Time: 2017-12-04 Origin:Site
It is no wonder critical components are made with stainless steel material because of its character of Corrosion resistant, strong, heat resistant and chemical resistant; It is also universal used in many industries, from Home appliance parts to aerospace,forming and deep drawing parts to frame parts .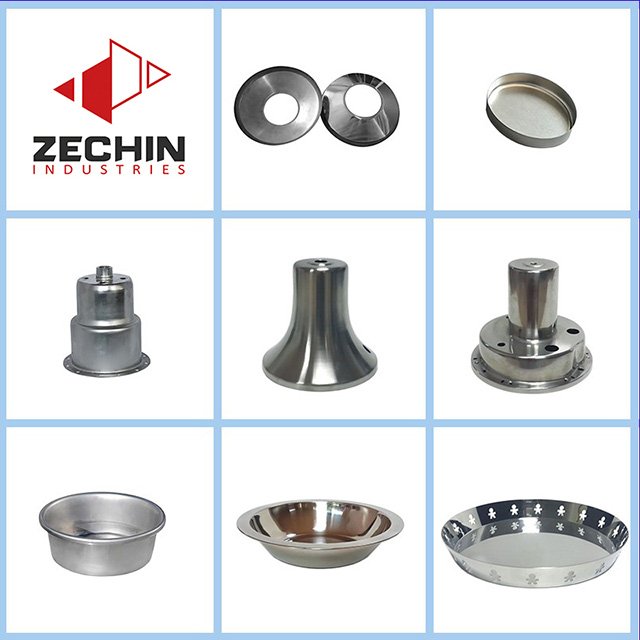 Deep Drawing Stainless: How It Works
Stainless steel can be sued to produce strong, corrosion-resistant parts from fuel tanks to kitchen sink through deep draw forming process. The process of deep drawing stainless steel is to apply pressure to form a flat stainless steel sheet into shapes in a hydraulic forming die. Depends on the ratio of deep drawing, some parts must go through a series of stretches to meed required sizes. It is easy to drawn 5 inches deep parts. An in-process annealing treatment is needed to remove work hardening. Stainless steel is a usually deep drawn or so called cold-working process. Two types of stainless steel can be fomed into deep drawn parts.400sereis &300 series. SS 300 series is particularly suitable for deep draw froming due to their high nickel-alloy content. SS 304 & SS 316 are the best choice for high requirement applications.
Challenges Associated with Deep Draw Forming Stainless Steel
Special handling during the deep draw forming process will be required due to stainless steel's properties. Stainless steel work hardens faster than carbon steel. So, it needs almost twice the force to be stretched and formed. It is very important to calculate this pressure to prevent breakage .Stainless steel chromium oxide surface film (which prevents corrosion) intensifies friction during hydro forming process, meaning that tooling must be coated and lubricated meticulously to minimize the cost of wear and tear. The speed of deep drawing stainless must be optimized to account for high friction. Failing to calibrate speed correctly can result in breakage or wrinkles. In general, the more severe the draw, the slower it needs to be.
Many metal deep draw stamping factories and tool shops - especially those that work primarily with carbon steel - find that their standard processes don't produce adequate results when it comes to stainless steel parts. Customers should be careful to partner with deep draw forming suppliers who routinely produce quality stainless steel deep drawn parts.
Trusted Experts In Deep Drawing Stainless Steel
Zechin Industries has been working with customers for decades from various industries to produce quality deep drawn parts in different metal materials, such as stainless steel. Our customers are mainly from North America, Europe and Australia & New Zealand, and beyond for delivering stainless steel parts on budget.
For Stainless steel and other metal parts, our custom deep drawing capabilities include stamping and hydroforming. Deep draw stamping is a alternative to hydro forming for customers. All metal deep drawing stampings tooling are handled in house in order to save start-up costs. To further support our customers' needs for customization and value, we offer deep draw hydroforming for stainless steel and other metals. Deep draw hydroforming stainless steel is one of our main production strength for complex parts.
Whether you're looking for a new China deep draw metal stamping manufacturer or you're seeking to design a new stainless steel part, Zechin Industries is your complete metal parts manufacturing partner. Contact us today to understand more about our deep draw forming capabilities.